CONSTANCE BOUTET/ FASHIONDAILYNEWS.COM – 09/13/12
Babybrand : la première lauréate est Constance Boutet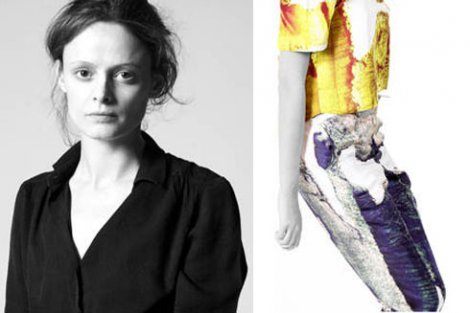 Lancé par Gérald Cohen en association avec Carole de Bona, le premier concours Babybrands, visant à récompenser des marques émergentesfondées par de jeunes créateurs,vient d'auréoler sa première lauréate : Constance Boutet.
And the winner is : Constance Boutet. La jeune femme de moins d'une trentained'années est la première lauréate du concours Babybrand. Diplômée d'Esmod et del'IFM, elle a fait ses armes auprès de marques comme Jay Ahr, Christian Dior, Louis Vuitton et Céline. Après avoir passé trois années en Chine, elle se spécialisedans la création d'imprimés sur soie. En 2011, à 28 ans, elle lance sa ligneéponyme dédiée aux foulards qu'elle travaille aussi désormais en vêtementsféminins.
Grâce à ce prix, Constance Boutet remporte un stand sur le prochain salonVendôme Luxury à l'hôtel Le Meurice (du 28 septembre au 1er octobre). Sesproduits sont commercialisés chez The Space (multimarque haut de gamme parisienpartenaire du prix). Et, elle est aujourd'hui accompagnée par l'agence Gérald Cohen pour sa communication et ce, pour une période de 6 mois.
ALA
www.constanceboutet.com