The commercial real estate & the e-commerce
The nations which leaned on the financial and real estate speculation knew the strongest growths; they are for the punishment today. Since the beginning of the crises, Dubai saw luxury brand sales fall by 45%, the worst slump for 17 years.
Entraining a bankruptcy of the sector of the real estate. In USA, the biggest chain of Malls also closed. The same disaster in Spain, Great Britain,… and the list is long.
If this series of liquidations is a chance for the emerging brands, it accompanies a fast increase of the sales of clothing on internet. 1.2 billion Euros is the equivalent of the turnover of department stores and popular stores.
The development of internet & e-commerce applications of the last five years announces a reproduction of the points of delivery / deposits like KIALA.  But also a new urbanization adapted to the new society.
Later marriage, blended family, ageing of the population, mega cities released from the quite automatic, are going to join it's suburbs. Offices and houses are going to group together. New distribution stores of nearness go appear competing with hypermarkets.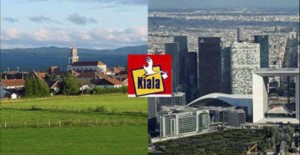 © Gérald Cohen – September 2009